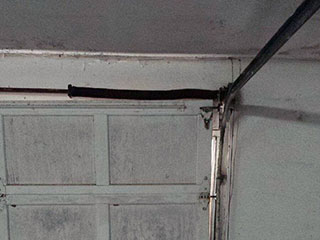 One of the most serious problems you can have with your garage door is a broken spring. If the spring is snapped or not functioning for any reason, you wouldn't be able to operate your door. This is one of the most crucial problems that we help customers with, as trying to replace or repair this particular part yourself can prove very dangerous. We can arrange for a trained technician to come over at a time that's right for you, have your spring repaired or replaced and ensure your door is in perfect working order as soon as possible.
Expert Repair & Replacement
Our company has been fixing all types of garage door springs for years. We have worked with all designs and know exactly how to remove and install both torsion and extension springs safely and efficiently. If your door is stuck or disabled, take a quick look at the spring at the top of your door. If you can't see it clearly or it looks like a wire has gone off spiraling, it's best not to try to tamper with anything and leave the repair to a professional.
The Dangers of Handling Garage Door Springs
Garage door springs are incredibly dangerous parts to work with as they use tension in order to support the door's weight. This tension can be released without warning when it breaks – so you can imagine the horror stories related. Our technicians know exactly how to work with all brands and types of springs. Don't take the risk of injury or further damage to your property, contact our team today to arrange an expert call out and have your door back to perfect working order right away. Call Garage Door Repair Inver Grove Heights today or schedule your appointment easily online! Our team is at your service!
We also offer:
Overhead Door Installation
Extension Spring Adjustment
Belt Drive Opener Installation
Liftmaster Chain Drive Lubrication