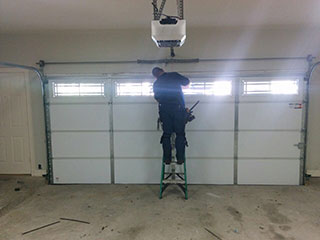 Not many are prepared for the moment their garage door will get stuck halfway open, off the track, or stop responding altogether. Garage Door Repair Inver Grove Heights is at your service whenever you have problems with your door. Here are some of our common repair services:
Broken Spring Replacement
It is known that the most dangerous parts in the average garage door system aside from the heavy door itself are the springs. They store a tremendous amount of tension in order to support its weight, and so they must be replaced by a professional who knows what is the best type according to the door's size and weight and has the right tools to do it safely.
Cables & Tracks
Cables could snap just like springs after long years of service as a result of natural wear and tear. Tracks could get misaligned or bent for various reasons, the most common one being minor accidents with the cars coming in or leaving the garage. These parts work closely together, so our technicians will make sure they are both in perfect condition during service.
Garage Door Off Track
Another common issue we are commonly called in to fix is the door getting off the track. Much like track-related issues, this too happens as a result of minor accidents. A car accidentally backing against the door would cause an impact - and even if the panel won't be damaged in the process, the door might be pushed out of the track, making it bend in the process. Our technicians will make sure the track is in perfect condition, and place the door back safely.
Professional Garage Door Repairs
Contact our experts today for service or any questions you have! You can also schedule your appointment online easily! Let us know how we can help.
You can also count on us for:
Roll up Garage Door Maintenance
Opener Sensor Replacement
Garage Door Extension Spring Replacement
New Garage Door Installation