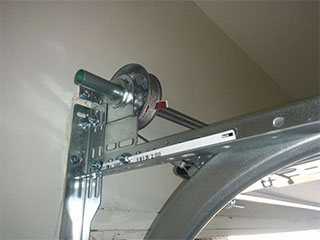 Waiting for help becomes frustrating very quickly, especially with an unexpected problem. When your garage door spring breaks or suddenly the opener isn't working, you've likely had other plans and the problem caught you off guard. For situations where you don't want to waste precious time and get the garage door repaired as quickly as possible, our local technicians can help. With the nearest garage door repair service team in Inver Grove Heights available for assistance day in and day out, you always have recourse. Our professionals come prepared with garage door parts to replace broken cables, rollers, springs, and more on the same day you call.
Garage Door Cable Came Off The Drum
Situations like these often cause the door to get stuck, usually accompanied by a grind or snapping noise. The lift cables of the garage door help, as their name suggests, the panels lift upwards. So when a cable comes off the drum, it creates a problem that won't let the door move all the way up or down. Sometimes simply adjusting the cable can solve the issue. But other times, you need to replace the frayed garage door cable with a new one that won't get snagged. Since the cables connect to the garage door spring, it's helpful to have someone who knows what they're doing to carry out the repairs. The team from Garage Door Repair Inver Grove Heights has technicians available daily for such problems. So you'll always find us ready to provide quick solutions.
Get a Broken Springs Replaced Quickly
As common as some of the other problems are, nothing compares with broken garage door springs. This problem occurs the most frequently. The reason for this is simple. Garage door springs suffer the most wear out of the entire system. Every time you open the door, the springs utilize a counterbalancing force to help the panels move. Naturally, sooner or later, that regular wear and tear will catch up with them. Broken spring replacement can is more dangerous than some might expect. The tension adjustment involved with the process makes it quite risky if you don't have experience replacing broken garage door springs. Inver Grove Heights technicians in your area can help at a moment's notice. So let the experts handle broken spring replacement for you and save time and effort, as well as money by avoiding more costly repairs later on.
Need Garage Door Repairs? Call Inver Grove Heights's Nearest Technicians!
There's no need to wait or have to miss appointments just because something went wrong. With the emergency garage door repair services we provide, you can get back to your planned day in no time at all. The local technicians at Garage Door Repair Inver Grove Heights will provide quick assistance at a moment's notice on any day you need it. Get in touch with us by calling the service hotline for help any day.