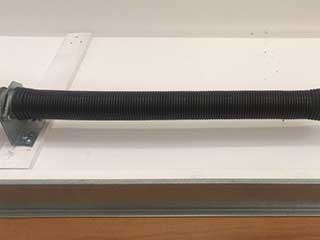 In the best-case scenario, a broken garage door spring will ruin part of your day. In the worst case, if you don't get expert assistance quickly, it can ruin much more than that! Garage door spring replacement is a surprisingly complicated service and one that can be very dangerous for non-professionals to attempt. Don't panic, though! With a skilled pair of hands and the right tools, your garage door can be working safely again in almost no time. Garage Door Repair Inver Grove Heights handles broken springs all over city limits, with same day service available all week long and even on holidays!
Using a Garage Door With a Broken Spring
Sometimes it's immediately obvious when a garage door spring breaks, especially if it happens while you're opening the door. A garage door that opens very slowly and makes a lot of noise might be trying to warn you not to keep opening it. Sometimes broken springs will also make a garage door list to one side. You might still be able to open and close your garage door with a broken spring, but it's very risky to try it. Without the springs bearing the door's weight, you could damage the garage door's other components as well. Much worse, a broken spring fragment or snapped cable could come flying out and hit someone hard enough to cause serious injuries. If you have a broken garage door spring, you should call someone to replace it ASAP and avoid using it until then.
Same Day Garage Door Spring Replacement In Inver Grove Heights
Fortunately, there's no need to hold out for a long time waiting for spring replacement. A call to Garage Door Repair Inver Grove Heights guarantees a visit from our skilled technicians just as soon as we can make it to your address! We've been doing this for over a decade, and are happy to offer the best prices for broken spring replacement around. Remember, handling spring repairs incorrectly can cause major troubles and cause injuries or worse. So leave it to the pros near you! Call our hotline and tell us where you need us!