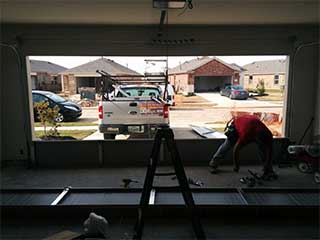 Make Sure Your Door Is Healthy
There are numerous benefits to getting regular maintenance for your garage door, one of which being longevity! Your door will be working like a charm for years to come as long as you keep it in good shape and catch any problems as soon as possible so they can't worsen over time with further use. It also helps to prevent sudden surprise breaks that may leave you stuck when you have places to be! Maintenance gives technicians a chance to notice early warning signs that bigger issues are on the way and take care of it now, rather than leaving you in a frustrating situation later.
A Thorough Examination Of The System
We're glad to provide a complete inspection of your door's system, which is more complicated than you might think! There are many working parts involved that all come together to get your door moving, but if any one of them is off or near breaking, it can have a negative impact on the rest of the system from strain. Our experts will locate any trouble, even something as small as bolts needing tightened on the opener from being jostled and tend to it so your door can work easily again.
Get Your Door Moving Quicker
Regular part lubrication can be beneficial both to helping your door move swiftly, as well as the lifetime of the parts themselves. You shouldn't have to wait as your door drags along at a snail's pace, and lubrication will help it slide along smoothly in no time. Parts such as the springs can get brittle over time, and this makes them far more likely to break. Lubrication will get them more limber again and reduce this chance! Your garage door will be like new again.
Get Your Appointment Scheduled Today
Rather than let your garage door continue to limp along, get it like new again instead! Just call Garage Door Repair Inver Grove Heights now and let us know you'd like a maintenance service. You'll be glad that you did!
But wait, there's more! We also offer:
Garage Door Safety Inspections
Door Opener Troubleshooting Services
Oil Tempered Torsion Springs
Emergency Garage Door Services